We regret that we must postpone the Tuscan Wine pairing dinner.
The event will be rescheduled in January 2023. We hope you can join us on the new date.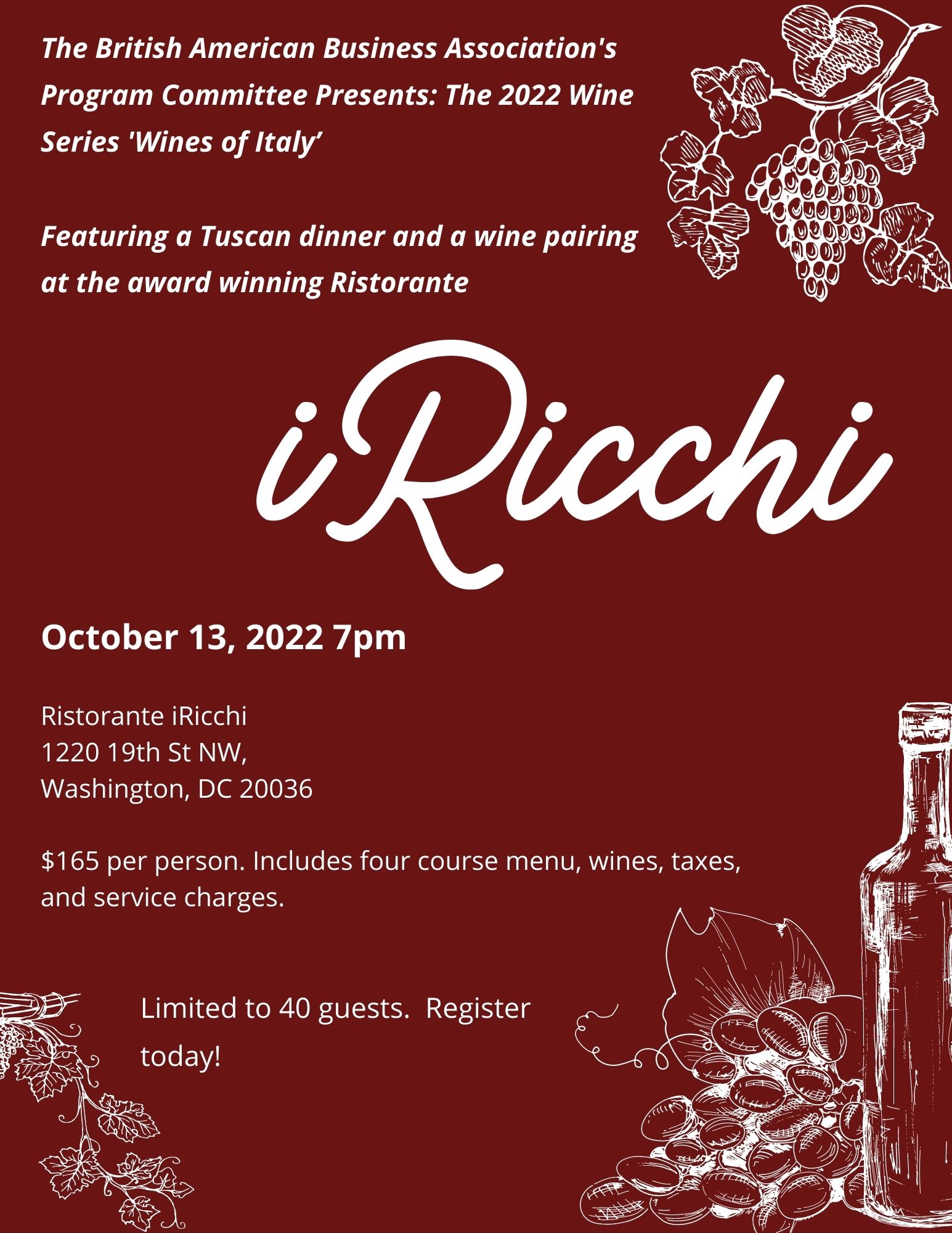 The BABA Program Committee Presents the 2022 Wine Series
"Wines of Italy"
Join the BABA Program Committee for a wine dinner at the premier award winning DC restaurant i Ricchi. Organized by Chris Parker, Co-Chair of the BABA Innovation and Entrepreneurial Group and originator of the Wine Education Series for BABA, the evening will feature Tuscan style food paired with wines from Italy, and wines from Barboursville Vineyards, a Virginia winery owned by the Zonin family*
With Special Guest Speakers
Luca Paschina, Winemaker and General Manager, Barboursville Vineyards**
Christianne Ricchi,Owner and Executive Chef, iRicchi***
*The Zonin Family have been vintners since 1821 and today control the largest private vine growing and winemaking company in Italy. The Zonin family bought land and first planted Italian grape varieties in Virginia over 40 years ago.
**Luca Paschina of Piemonte, Italy is Barboursville's resident winemaker and general manager. He holds the most diverse and extensive record of honors including the Order of Merit of the Italian Republic. The Order of Merit is the highest distinction in occupations "that reflect honor on Italy and its people, in cultural pursuits, the economy, public service, the military, philanthropy or humanitarian activities."

*** "During my time in Tuscany I was inspired by the role of food in Italian culture. Food is a lifestyle in Tuscany; people know where their food comes from and how to prepare it. They seek comfort and quality in their food. I wanted to share that real food experience with Washington, D.C." - Christianne Ricchi
A VEGETARIAN MENU IS AVAILABLE. Please tell us if you have food allergies or restrictions.
DATE: October 13, 2022
TIME: 7:00 - 9:00 pm
LOCATION:

Ristorante i Ricchi
1220 19th Street NW
Washington, DC 20036
PRICE: $165 Includes four course meal, wine, tax and service charge.
MENU
An Italian – American Enogastronomic Tour of Piemonte, Sardinia & Virginia
AFFETTATI TOSCANI IN VIRGINIA
Assorted Tuscan cured meats Terra di Siena made in Virginia
Prosecco, Barboursville NV
ANDARINOS AL RAGU BIANCO CON FUNGHI CROCCANTI
Sardinian semolina pasta twists, beef, sausage & pancetta ragu
with crispy cremini mushrooms
Vermentino, Argiolas Costamolino 2021
Vermentino Reserve, Barboursville 2021
STRACOTTO DI FASSONA PIEMONTESE
Classic Piemontese slow braised beef with polenta & roasted autumn vegetables
Nebbiolo, Damilano 2018
Nebbiolo, Reserve Barboursville 2019
BUNET ALLA LANGAROLA
Langhe specialty - chocolate crème caramel with amaretti & Virginia peanut granola
VEGETARIAN MENU (including all wines and dessert listed above)
STUZZICHINI VEGETALI
Assorted vegetarian Italian "tongue teasers"
MALLAREDDUS AL RAGU DI CECI & FINOCCHIO
Sardinian gnocchi, tomato, chickpeas, fennel & pecorino Sardo
POLENTA CONCIA AI FUNGHI CREMOSI
Classic Piemontese polenta with toma & parmesan cheeses with braised wild mushrooms
R I S T O R A N T E
i R I C C H I