Latest News and Information from the British Embassy

UK and USA agree to continue Mutual Recognition Agreement

February 14, 2019
An arrangement which helps boost British trade with the US will continue when the UK leaves the European Union, supporting jobs in both countries.
The Mutual Recognition Agreement on Conformity Assessment (MRA) was signed by Her Majesty's Ambassador Sir Kim Darroch and Deputy United States Trade Representative C.J. Mahoney in Washington today (Thursday 14 February).
The agreement will maintain all relevant aspects of the current EU-US MRA when the EU-US agreement ceases to apply to the UK. It helps facilitate goods trade between the two nations and means UK exporters can continue to ensure goods are compliant with technical regulations before they depart the UK, saving businesses time, money and resources. American exporters to the UK benefit in the same way.
Total UK-US trade in sectors covered by the deal is worth up to £12.8 billion, based on recent average trade flows. Of this, the UK exports covered are worth an estimated £8.9 billion- more than a fifth of total UK goods exports to the US. Today's signing marks a crucial step in the important trading relationship between the UK and America, the world's largest economy.
The agreement benefits a range of sectors, including pharmaceuticals. Pharmaceuticals account for around £7.7 billion of UK exports to the US - nearly 18% of total UK goods exports to the US. Other industries that will benefit include the tech sector and telecommunications equipment suppliers.
Similar agreements have been signed in recent weeks with Australia and New Zealand, ensuring continuity and safeguarding revenues for British businesses and consumers.
International Trade Secretary, Dr Liam Fox said:
The UK and the US are the strongest of trading partners and this agreement will allow British and American businesses to keep trading as freely as they do today, without additional bureaucracy.

Our top priority is ensuring continuity for businesses as we leave the European Union and we are signing other agreements in the days and weeks ahead. We look forward to sitting down at the negotiating table with the Americans after we leave the European Union to strike an ambitious new free trade agreement.
This agreement has been welcomed by techUK, who represent more than 900 companies and around 700,000 employees in the UK tech sector.
CEO of techUK, Julian David, said:
This is a positive step to enable trade continuity with the biggest tech market in the world. Manufacturers value the current agreement so it is very good news that they won't now have to seek costly alternative arrangements to get approval for products used in high-end manufacturing, smart electronics and consumer devices.

Ensuring stability in this type of agreement is a strong starting point for the UK as we develop trade links with the USA as part of the Government's support for a new and proactive trade agenda.
Dr Richard Torbett, Executive Director of Commercial Policy: UK and International, at The Association of the British Pharmaceutical Industry said:
Finalising this MRA provides UK pharmaceutical companies with business continuity by streamlining regulatory processes between the UK and USA post Brexit.
The US is already our largest trading partner outside the EU. Trade between the two countries was worth £184 billion in the year ending Q3 2018 (ONS). The US is also the single biggest source of inward investment into the UK.
The UK is prioritising a new Free Trade Agreement with the US after we leave the EU, and we will publish our response to the public consultations about our negotiation approach shortly.
The UK and US have also signed a Mutual Recognition Agreement on Marine Equipment (MRA) today. This will provide continuity of the effect of the EU-US Marine Equipment MRA when the EU-US agreement ceases to apply to the UK. This means that marine equipment manufacturers will continue only to need certification in one jurisdiction before being able to legally place their equipment on both markets and on board both UK and US flagged vessels.
7 November 2018
This week, the UK-US Trade & Investment Working Group met for the fifth time in Washington, D.C. The Working Group covered a range of topics, including industrial and agricultural goods; services and investment, including financial services; digital trade; intellectual property rights; and regulatory issues related to trade. The third meeting of the SME dialogue took place last week in New York City, bringing together more than a hundred companies to discuss ways to reduce trade barriers.
On Brexit, Prime Minister Theresa May has said that 95% of the Withdrawal Agreement and its protocols are now settled with the EU. In addition, we have broad agreement on the structure and scope of the future relationship, with important progress made on issues like security, transport and services.
The Prime Minister has also formed five new Business Councils to advise on how to create the best business conditions in the UK after we leave the EU, embracing the opportunities of Brexit to build a stronger economy and creating more, better paying jobs. The British Embassy publishes every two months a digest of the latest information on Brexit, sign up for the Brexit Brief online.
Chancellor Phillip Hammond announced the UK Budget on 29 October. The UK's corporate tax rate will fall to 17% in 2020, and already is the lowest in the G20. In addition, the business rate will be cut by a third over the next two years for retail SMEs. The budget also included an additional £500 million for Brexit preparedness, raising the amount set aside to prepare for all eventualities to £2 billion.
The government has announced that it will introduce a new Digital Services Tax in April 2020. This is designed as an interim response, pending global reform, to the challenges that digital businesses create for the international corporate tax system. The UK government has opened a consultation on the tax that will run until 28 February 2019.
The Prime Minister also attended the UN General Assembly in September, where she met with President Trump in the margins. She also gave a keynote speech at the Bloomberg Global Business Forum stating, "My message today is that a post-Brexit Britain will be an unequivocally pro-business Britain – and a global partner that will help to lead the international response to those challenges."
The UK Prime Minister Theresa May spoke at the Bloomberg Global Business Forum during the United Nations General Assembly today.(Sept 26, 2018)
Her key message:
"And my message today is that a post-Brexit Britain will be an unequivocally pro-business Britain – and a global partner that will help to lead the international response to those challenges."
[Full Speech Text as Delivered on: 26 September 2018]
This week political leaders have come to New York to discuss how we can work together to ensure the future prosperity and security of our people.
And it's right that many of these discussions are taking place at the United Nations.
But it is also right that I have come here to this Bloomberg forum, because we will only succeed if we also work in partnership with you, some of the most pioneering business leaders in the world today.
It is businesses like yours which have been great engines of job creation and growth – in my country, here in America and right around the world.
And it is the embrace of open economies and free trade as drivers of innovation and growth that has underpinned your success and acted as the greatest agent of collective human progress.
Where free markets have been properly regulated, and trade and investment unleashed, we have seen unprecedented levels of wealth and opportunity, rising life expectancy, greater access to education, falling infant mortality and reductions in absolute poverty on a scale which would once have been hard to imagine.
And as governments we have played our part in helping to make this possible by agreeing and abiding by a global framework of rules, and by opening up our economies to competition.
But today new challenges – including the rapid pace and breadth of technological change – are causing some to question their faith in the institutions of global co-operation and the framework of rules which has brought us to this point.
They look at who gains from free trade and ask whether this global economic system is fair and whether it can really be made to work for everyone.
They look at the growth of artificial intelligence and ask whether their children and grandchildren will have the skills to succeed in the new economy.
And they look at some of the tensions in global trade today and ask whether the rules based system can be really adapted to reflect the realities of the modern world.
My answer to all of these questions is a bold and optimistic yes.
And my message today is that a post-Brexit Britain will be an unequivocally pro-business Britain – and a global partner that will help to lead the international response to those challenges.
Through our Modern Industrial Strategy at home we will create one of the most dynamic and business-friendly economies in the world – driving investment opportunities for your businesses and spreading the benefits of new sectors and technologies to every part of my country.
And internationally – as a Global Britain – we will champion our vision for the future of the global economy: a vision that is based on openness, innovation, competition, high quality and intelligent regulation.
And we will be at the forefront of sustained international efforts to address the challenges facing global trade and to build a dynamic and competitive global economy that can truly work for everyone.
I have always been clear what the United Kingdom stands for and what we want to achieve as we leave the European Union.
Our relationship with the EU will change with Brexit. But we will still be neighbours, we will still be part of the European family of nations, and we will continue to champion the same beliefs – standing for freedom, democracy and the rule of law, underpinned by a rules-based global order.
And that is why I am confident we can reach a deal about our future relationship that is built in this spirit.
We have put forward a plan for a new, but still close relationship, with frictionless trade at its heart.
There is no other plan that protects jobs and livelihoods and also meets our commitments in Northern Ireland, while respecting how people voted in the largest democratic exercise in our history. And I believe that behind the noise of the headlines and the chattering of the commentators, there is much common ground in these objectives.
We know that the other models on offer would not deliver for business, who would face either increased bureaucracy, additional border checks, or both. And so I have urged the EU to engage with our proposals so that we can move forward.
To be clear, we are not seeking partial membership of the Single Market, or in any way trying to undermine it. But we are looking to achieve the frictionless trade that I believe is in all of our interests.
There is clearly a lot further to go in the negotiations and the coming weeks will be critical.
For the prize is great: with the conclusion of the negotiations over the coming weeks, the certainty of an Implementation Period in which to adapt to the new arrangements, and the guarantee of frictionless trade with the EU in the future, businesses can look forward to the post-Brexit world with confidence.
At the same time, looking beyond the EU, we are absolutely committed to delivering continuity in terms of relationships with existing bi-lateral partners – and we want to forge the most dynamic and ambitious Free Trade Agreements with old friends and new allies alike.
Crucially we also have a plan to deliver an economy that is knowledge-rich, highly innovative, highly skilled and high quality but with low tax and smart regulation.
So let me say this very clearly.
Whatever your business, investing in a post-Brexit Britain will give you the lowest rate of Corporation Tax in the G20. You will access service industries and a financial centre in London that are the envy of the world, some of the best Universities in the world, strong institutions, a sound approach to public finance and a consistent and dependable approach to high standards but intelligent regulation.
And yes, locating in the UK, you will also be able to access the talent you need. Freedom of movement will end when we leave the European Union. But we will put in place a new immigration system that will allow businesses and universities to attract the brightest and best to the UK.
Furthermore, through our Modern Industrial Strategy we are bending the power of the state and the ingenuity of the private sector to solve four Grand Challenges of the future which are enormous areas of potential for growth, jobs and investment across our whole country.
These are the challenges of Clean Growth; Our Aging Society; the Future of Mobility; and the challenge of Artificial Intelligence and Data – where we have already seen more investment in the UK over the last 3 years than in the rest of Europe combined.
We are contributing the UK's biggest ever increase in public investment in research and development, which will help develop new technologies in these four areas.
And we have set a goal of total public and private investment in research and development reaching 2.4 per cent of GDP by 2027.
We will educate and train our young people for the opportunities that meeting these four Grand Challenges will bring.
And we will ensure that we have smart, agile regulation and dynamic institutions which promote innovation, but also protect people's rights. Just as we are doing, for example, with AI – where our Centre for Data Ethics and Innovation will make us a global leader in helping to ensure the safe, ethical and innovative deployment of this new life-changing technology.
At its heart, our Modern Industrial Strategy is about creating a different kind of economy for the future.
It's not about seeing business and society as separate entities, where business generates a surplus and government then invests it to handle the social consequences of economic change.
But instead it is about harnessing the enormous power of business as a partner in tackling some of the greatest social challenges of our time.
It is not about telling business what to do, but instead genuinely listening to business and working in partnership with you.
It's about understanding what you need and working together to shape our economy in a way that will help us make the UK one of the most attractive countries in the world in which to establish and grow a successful business.
Just as we work with you to create the best possible environment in which to invest in the UK, so I am also determined that a post-Brexit Britain will be a trusted partner at the forefront of efforts to address the real challenges facing the future of the global economy.
This means playing a leading role in tackling the root causes of the current tensions in global trade – where the rules have not kept pace with the modern world.
If a global system is going to function properly, the participants in that system need to believe that the rules and the commitments they make to one another are fundamentally fair.
They need to believe that others are playing by both the spirit and the letter of those rules, whether that be in terms of declaring what subsidies are provided or respecting intellectual property rights.
They need to believe that any disputes will be dealt with fairly and efficiently.
And the rules themselves need to remain relevant by keeping pace with the changing nature of trade and technology.
So we need to give the WTO a broad, ambitious and urgent mandate to reform, to address the areas where it is not functioning effectively, to deal with issues that are not currently covered and maintain trust in the system.
For example, we need to see new rules in areas such as digital trade and services, including e-commerce that can boost growth across these dynamic sectors.
We need WTO reforms to increase fairness for all participating countries; and to enhance global legitimacy and public support for the multilateral trading system, including through greater transparency.
We support the EU's efforts in this area and, as we leave the EU, we will want to work with them and all our partners around the world, to push this forward and deliver a mandate for change.
As a global and independent trading nation, we will use all the means available to us – including our positions in the G7, G20, OECD, IMF and FSB to pursue this agenda in partnership with others committed to the same end.
And crucially we also want to make business central to the conversation because at the end of the day governments set the framework, but it is businesses that create wealth and drive innovation.
These challenges facing the global economy are serious – but a Global Britain will be a fully engaged and ambitious partner at the forefront of international efforts to drive reform.
And I look forward to hearing from you this morning and to discussing with you what more we can do – so that together we can shape the future of the global rules based system to work for the modern world.
And together we can harness the global power of open economies and free markets to deliver prosperity and opportunity for all – now and for generations to come.
[END]
Speech text is also available online: https://www.gov.uk/government/speeches/pm-speech-at-the-bloomberg-global-business-forum-26-september-2018
A digest of the latest news on Brexit from the British Embassy, Washington, DC
US President visited the UK
"I am pleased to welcome the President of the United States to Chequers today on his first official visit to the United Kingdom.
"No two countries do more together than ours to keep their peoples safe and prosperous.
"We agreed today, that as the UK leaves the European Union, we will pursue an ambitious UK/US Free Trade Agreement."
- Prime Minister Theresa May
· Prime Minister Theresa May hosted President Donald Trump and the First Lady for a black tie dinner at Blenheim Palace, the birthplace of Winston Churchill, on 12 July. Dinner guests included businesses with links between the UK/US, like Barclays, GlaxoSmithKline, Diageo, Goldman Sachs, and EY UK. Conversation focused on UK/US trade and investment relationship, which is worth $200 billion a year. We are each other's largest investors, with over $1 trillion invested in total.
· They also visited UK and US military personnel at the Royal Military Academy Sandhurst, and held talks at Chequers to discuss Brexit, UK/US trade, including a future free trade agreement, and a range of foreign policy issues like Russia and the Middle East.
· President Donald Trump and the First Lady then visited Windsor Castle for tea with Her Majesty the Queen.
Brexit Negotiation Update
New Brexit Secretary Dominic Raab gave a statement to Parliament on 24 July on the publication of the White Paper on Legislating for the Withdrawal Agreement between the UK and the EU.
"We have made substantial progress: protecting the rights of EU citizens in the UK and UK citizens in the EU, deciding on the terms of the financial settlement, agreeing a strictly time-limited implementation period.
"Most of the Withdrawal Agreement, according to the EU side, around 80%, has now been agreed with our EU partners, and we have isolated outstanding issues for further focused negotiation."
- Brexit Secretary Dominic Raab
On 26 July, Brexit Secretary Raab said that discussions have moved us closer to an agreement on the last few remaining areas, including governance, data protection and administrative procedures. In addition, the UK government is clear that it wants to see no hard border between the UK and Ireland, and no new border that cuts Northern Ireland off from the rest of the UK. Last, we need to work up a clear and precise vision for our future relationship, and set this out in a political declaration to be signed alongside the Withdrawal Agreement.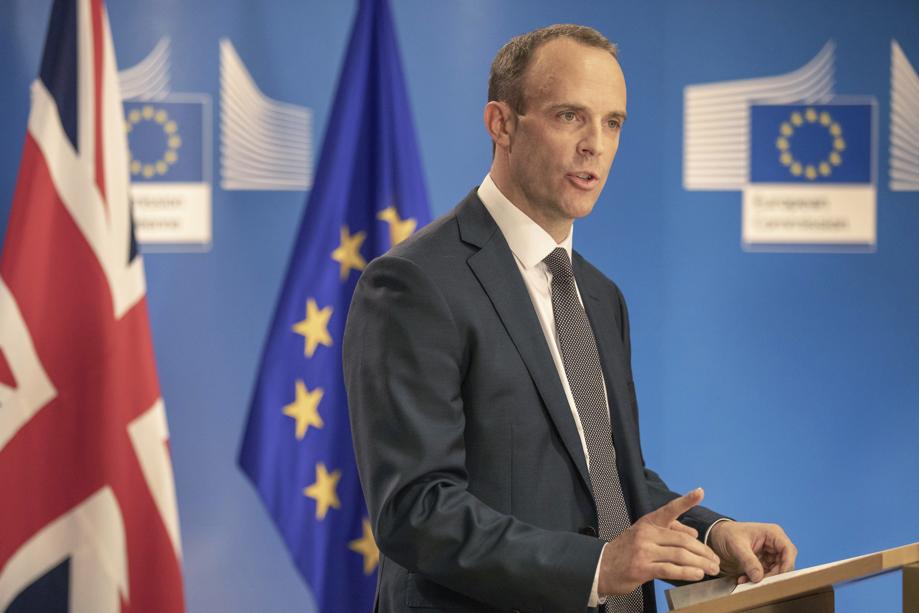 UK Government Published Future Relationship White Paper
On 12 July, the UK government set out its vision of a future relationship between the UK and the EU in a White Paper.
· At the core of the UK's ambitious economic partnership proposal is the establishment by the UK and the EU of a free trade area for goods and maintain a common rulebook for goods, including agri-food. This would avoid friction at the border and ensure both sides meet their commitments to Northern Ireland and Ireland through the overall future relationship. It would protect the uniquely integrated supply chains and 'just-in-time' processes that have developed across the UK and the EU over the last 40 years, and will remain important given our geographical proximity, and the jobs and livelihoods dependent on them.
· The White Paper also proposes participation by the UK in those EU agencies that process authorisations for goods in highly regulated sectors, and the phased introduction of a new Facilitated Customs Arrangement, where a good reaches the UK border, and the destination can be robustly demonstrated by a trusted trader, it will pay the UK tariff if it is destined for the UK and the EU tariff if it is destined for the EU.
· The UK government believes this proposal set out in the White Paper is the best way of balancing our economic and Northern Ireland objectives, while also enabling the UK to have its own independent trade policy and allowing it to scope out an ambitious UK/US FTA.
· A future security partnership that would maintain existing operational capabilities, including participation in Europol and Eurojust; include arrangements for coordination on foreign policy, defence and development issues; and wider cooperation on illegal migration, cyber security, counter-terrorism, civil protection and health security.
· Cross cutting and other cooperation that will allow arrangements to facilitate the free flow of data, establish cooperative accords in areas such as science and innovation, and new arrangements for annual negotiations on access to waters and sharing of fishing opportunities.
· To ensure the future relationship between the UK and the EU is consistent and coherent, it should be structured around an overarching institutional framework that will underpin the various forms of regulatory cooperation agreed. This arrangement would provide for resolution of disputes through a Joint Committee and make sure both the UK and the EU interpret the rules consistently.
In Case You Missed It:
26 July: Brexit Secretary statement following negotiation round
25 July: Brexit Secretary op-ed in Daily Mail
25 July: UK Secretary of State for International Trade Liam Fox gives speech to Heritage in DC
22 July: Liam Fox launches consultations on UK's trading future outside of EU
20 July: Prime Minister's Belfast speech
19 July: UK Secretary of State for International Trade Liam Fox launches UK's first ever space exports campaign to target export opportunities in the US and India
18 July: New public consultations announced for future trade agreements
18 July: International Trade Secretary Liam Fox's speech to Federation of Small Businesses
17 July: The future relationship between the United Kingdom and the European Union
16 July: Prime Minister's speech at Farnborough International Airshow
13 July: Fourth Meeting of the UK/US Trade and Investment Working Group
13 July: Information about the Withdrawal Bill
12 July: The future relationship between the UK and the EU
12 July: Brexit Secretary Dominic Raab statement on the future relationship between the UK and the EU
12 July: Scotland Secretary updates Scottish business leaders on Brexit
21 June: Chancellor Philip Hammond's annual Mansion House speech
UK Government Launched UK/US Free Trade
Agreement Consultation
UK Secretary of State for International Trade, Dr Liam Fox, launched on 22 July the 14-week consultation process for a prospective free trade agreement (FTA) with the US, Australia, New Zealand and potentially seeking membership of the Comprehensive and Progressive Agreement for Trans-Pacific Partnership once the UK has left the EU.
Please engage with the UK/US FTA consultation process through this online web portal, which will close on 26 October 2018.
The UK/US have a very close strategic relationship. When President Trump met with Prime Minister May, they agreed that as the UK leaves the EU we would pursue an ambitious UK/US FTA.
Therefore, following the launch of the consultation process, Secretary Fox visited Washington, DC, to meet with and provide an update to US Trade Representative Robert Lighthizer and Commerce Secretary Wilbur Ross.
He also delivered the Margaret Thatcher Freedom Lecture at the Heritage Foundation on 25 July. In his speech, he highlighted the already close UK/US trade and investment relationship.
"The UK is the largest source of foreign direct investment into the USA, with around $560 billion of holdings here – more than France and Germany combined and 30% more than Japan.
"Our investment is also 20 times the investment from China, and 30 times that of Mexico.
"British companies employ over a million workers across every state in the Union, from Ohio and Pennsylvania to Florida to California.
"I don't know if we have any Texans here today, but more than 107,000 people in the Lone Star State are employed by UK firms."
- UK Secretary of State for International Trade, Dr Liam Fox
Following, Dr Fox's visit, UK Trade Commissioner for North America, Antony Phillipson, spoke with Fox Business about the potential UK/US FTA and Brexit.
UK/US Trade and Investment Working Group Completes Fourth Meeting and Second SME Dialogue
The UK/US Trade and Investment Working Group met on 10-11 July for the fourth time in London, and the UK/US Small and Medium-sized Enterprises (SME) Dialogue met for the second time on 9 July in the margins.
The Working Group, established in July 2017 by UK Secretary of State for International Trade Liam Fox and US Trade Representative Robert Lighthizer, is focusing on providing commercial continuity for UK/US businesses, workers, and consumers as the UK leaves the EU and exploring ways to strengthen trade and investment ties.
The Working Group is also laying the groundwork for a potential, future free trade agreement once the UK has left the EU, and exploring areas in which the two countries can collaborate to promote open markets and free and fair trade around the world.
The Prime Minister held a roundtable as part of London Tech Week on 13 June to showcase the UK as the best place in the world to run a tech company. This event kicked off a series of discussions to drive inward investment in key sectors.
During the roundtable, Salesforce announced they will be investing $2.5 billion in the UK over the next five years, which will include the opening of a second UK data centre in 2019.
Another American company that participated in the discussion was Cubic Corporation, based in San Diego, California. Matthew Cole, President of Cubic Transportation Systems and Corporate Senior Vice President at Cubic Corporation, wrote on LinkedIn about his experience and why they chose to expand to the UK.
"We chose London and the UK in general for a reason: this location offers tremendous access to fine academic institutions, creative start-up companies and a general business environment which is open to innovation and experimentation, and has some of the world-leading transportation capabilities."
- Matthew Cole, President of Cubic Transportation Systems and Corporate Senior Vice President at Cubic Corporation
Are you a US company looking to expand internationally? Consider the UK, learn more here.